We support the people's economy through initiatives that support capabilities development and the competitiveness of MSMEs in Indonesia.
Sampoerna Retail Community
We started the Sampoerna Retail Community (SRC) in 2008 in Medan with 57 traditional grocery stores. Through SRC, we partner with traditional grocery store owners to develop their stores and equip them with sufficient entrepreneurship skills in order to compete with modern retailers.
The MSMEs that join SRC maintain full ownership of their stores and we do not impose requirements or commitments. Sampoerna gives practical advice and guidance that shop owners are free to follow. By the end of 2021 SRC has grown to over 160,000 SRC outlets in 34 provinces in Indonesia.
In 2018, we developed AYO SRC application which is designed to help SRC partners adopt the digital economy through solutions that connect them with suppliers and consumers in a single digital ecosystem. AYO SRC application, has been adopted by around 160,000 traditional outlets and more than 1.2 million end consumers with a total of around Rp11 trillion transaction value in 2021

Sampoerna Entrepreneurship Training Center
In 2007, we built Sampoerna Entrepreneurship Training Center (SETC), an educational and entrepreneurship training facility that involves the education of communities, on an area of 27 hectares in Pasuruan, East Java.
SETC, an integrated entrepreneurship training center, aims to encourage the growth and development of MSMEs in the fields of agribusiness and vocational appropriate technology.
In 2021, SETC has provided training to more than 56,000 people from various regions in Indonesia.

MSME development
We acknowledge MSME as a sector that takes up the most manpower and is the main driver that sustains the national economy. This is why we support the government's mission to improve the competitiveness of MSMEs through economic independence.
We organize a number of MSME programs to support capacity improvements as well as promotional activities to increase their sales.
In addition, during 2021 SETC has conducted regular SETC entrepreneurship webinar services in collaboration with various parties who are also committed to developing entrepreneurship and MSMEs, including from the marketplace platform, digital learning platform and product certification bodies (National Standardization Agency – BSN). SETC webinars were held every two months with a total of more than 1,500 participants in 2021.
The Company also collaborated with the Stapa Center, Yayasan Rumah Kita Sidoarjo, the Indonesian Technology Innovation Foundation (Inotek), Imagination Penala Maja, and Business Export Development Organization (BEDO) to support the national economic recovery by helping to empower MSMEs in East Java, Central Java, and DI Yogyakarta – to be able to survive, adapt, and innovate during this pandemic.

Sampoerna Rescue Training Center
In addition to programs for communities that focus on economic empowerment, Sampoerna also contributes to society through disaster programs. As a country that lies on the Ring of Fire, Indonesia is very susceptible to potential natural disasters, and therefore requires a reliable human resource in facing and overcoming natural disasters.
Sampoerna Rescue Training Center (SARTC) is an organization founded in 2002 by Sampoerna. The SARTC facility was built on an area of 3.5 hectares in 2010, as the first integrated disaster training facility in Indonesia. SAR supports the development of disaster preparedness and skills for emergency response and evacuation. SAR was also involved in humanitarian missions in handling natural disasters that have occurred in several regions in Indonesia throughout 2021.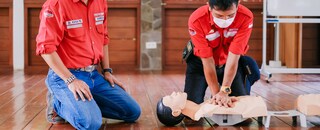 Health and safety at work
We always ensure the health of all our employees and manage risks in the workplace to maintain business sustainability and to secure everyone's health.
Health and safety for employees is one of our main priorities. We are committed to creating a safe environment and supporting their wellbeing.

As part of our commitment to health and safety, since 2013 we adopted the Management System Certification for Environment, Health, and Safety (EHS). We also conducted a certification by an independent third-party in October 2020, where we maintained the latest certification (2015) of ISO 14001:2015 and ISO 45001:2018 that covers all our factories in Indonesia.
Moreover, since 2019. PMI has started implementing the Global Environment, Health, and Safety (EHS) Certification scheme with the international certification body Bureau Veritas, including at Sampoerna's facilities.
Adapting to the new normal
To mitigate the spread of COVID-19, we implemented new safety standards in processes involving human interaction. This applies at all our facilities, including production facilities, offices, commercial processes, and in the fields.
We implement health protocols such as providing personal protective equipment (PPE) and hand sanitizers, while enforcing temperature checks and physical distancing at our premises. Where necessary, we rearrange our workspaces to reduce congestion.
This is supported by adjusting the way we work. We adopt virtual or hybrid engagements with partners, working in shifts at production facilities or working from home whenever possible, and using declaration forms to help with contact tracing.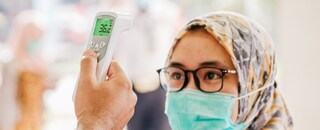 Fair working environment
Through equal relationships, the company and employees create the best workplace for them where everyone can trust one another, have peace and pride in their work and enjoy every minute of their time with Sampoerna.
We believe that everyone has an equal right to work without discrimination. Human resource management at Sampoerna is carried out based on merit regardless of ethnicity, religion, country of origin, socio-economic status, family status, age, disability, gender, political opinion, etc. For us, diversity in the workplace means creating space for employees to share their needs.
Learn more about Inclusion & Diversity.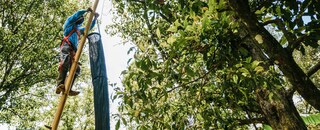 Industrial relations
Harmonious industrial relations are fundamental for establishing employee welfare and company productivity. We are committed to constantly improving the quality of industrial relations in order to sustain the company through dialogues between the company and employee representatives. In this case, based on existing regulations, the company recognizes labor unions as workers' representatives who fight for their collective interests. This commitment is written in the Collective Labor Agreement.
At Sampoerna, relations with employees through dialogue with labor unions (bipartite institutions) are conducted in a constructive, open and friendly manner, pressure free, and are always oriented to the needs and aspirations of workers. This functions as a means of building a harmonious relationship between employers and workers.
To keep our employees engaged and inspired, we appreciate those from various roles and functions at Sampoerna who have contributed to the company's achievements.
Their positive stories are conveyed through People Engagement initiatives such as the #ThisIsOurWork and My Sampoerna Story campaigns. This employee engagement program complements information, communication, and dialogue platforms for employees such as the Thrive application which consists of #AdaWaktunyaBerpikir (time to think), #AdaWaktunyaMengapresiasi (time to appreciate), #AdaWaktunyaMendengar (time to listen) and #AdaWaktunyaBelajar (time to learn).
To ensure engagement and a harmonious working environment, managers as people leaders are equipped with the necessary skillsets to lead, boost team energy and ensure the drive toward our company vision, supported by other programs such as DiaLoGue with Management and Upward Feedback Tool are also available to keep employees engaged.

Tobacco farming communities
Sampoerna is committed to supporting the Government of Indonesia in encouraging sustainable investments. We continue to innovate and increase the competitiveness of the national agro-industry sector through our numerous partnership programs.
We proactively contribute to advancing Good Agricultural Practices (GAP) and implementing the Agricultural Labor Practices (ALP) code. We continue working alongside our suppliers and partners to eliminate all forms of child labor and improve environmental conditions and tobacco crop sustainability in the areas where we operate.
Good Agricultural Practices
Partnership program with tobacco farmers
Since 2009, we have implemented a partnership program called the "Integrated Production Systems" through tobacco suppliers who establish direct contacts with tobacco farmers. Farmers are provided with technical, financial, and social support, ranging from planning to sales.
When the Integrated Production Systems was first implemented, there were only 5,000 farmers that participated with an area of about 6,000 square hectares. Currently, the IPS has worked with 22,000 participating farmers covering a land area of 19,000 square hectares.
The focus of tobacco farming through the Integrated Production Systems are:
Implementation of Good Agricultural Practices (GAP) and the Agricultural Labor Practices (ALP) Code.
Product integrity, which includes reducing non-tobacco related materials (NTRM) and crop protective residues.
Improvement of the tobacco supply chain through the Integrated Production System.
Sustainable tobacco production to meet domestic needs.
GAP consists of three main pillars, namely:
ENVIRONMENT
To reduce the impact of tobacco farming on the environment: water, forests, and energy.
CROP
To encourage a profitable tobacco farming mechanism in terms of quality, productivity, and integrity.
PEOPLE
To gradually address the labor-related issues in agriculture, including the prevention of child labor, and ensure a safe and fair work environment.
Agricultural Labor Practices
We have created specific guidelines titled the Agricultural Labor Practices (ALP) Code. We want to ensure that farm labor in tobacco production has obtained the security, welfare, and protection regarding labor issues through following the ALP Code.
We cooperate with suppliers and farmers to run the ALP program. We have completed the first ALP phase – educating and communicating with farmers on ALP issues. The next process will focus on the supervision and assistance of Field Technicians on farmers' sensitivity in addressing ALP issues.
Taking a stand against child labor
We implement employment policies from our parent company, PMI, which sets a minimum age limit and prohibits forced labor in all our offices and factories throughout Indonesia.
Since 2011, as part of our ALP implementation, we have developed a child labor elimination program in strategic partnership with Verité, a global prominent NGO in responsible supply chains.