1/12/2023
Starting Off 2023, Sampoerna Inaugurates Innovative Smoke-Free Tobacco Products Factory and First Export Shipment to Asia Pacific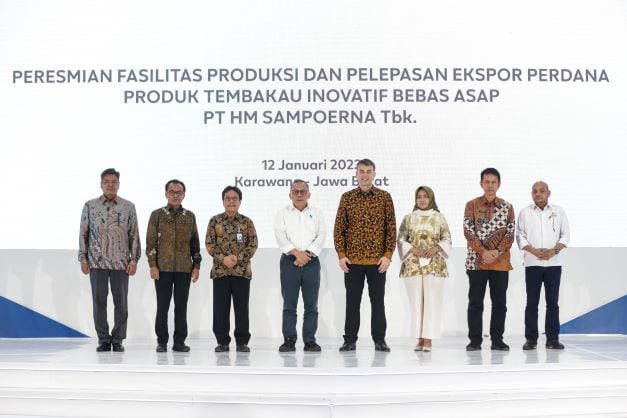 KARAWANG, JANUARY 12, 2023 – PT HM Sampoerna Tbk. (Sampoerna) held an inauguration for the production facility and first export shipment of innovative smoke-free tobacco products for IQOS under the HEETS brand on Thursday (12/1/2023) in Karawang, West Java. This production facility is a part of the company's investment and economic value creation in Indonesia. The production facility, which started operations in the fourth quarter of 2022, was built since the end of 2021 with a realized investment valued at more than US$ 186 million, exceeding the previously announced commitment.
The HEETS factory in Indonesia focuses on fulfilling demands in Asia Pacific and the domestic market and is in line with the government's priority to encourage investment and increase exports of end-products. This HEETS factory is Philip Morris International's (PMI) first production facility in Southeast Asia and the seventh in the world for innovative smoke-free products.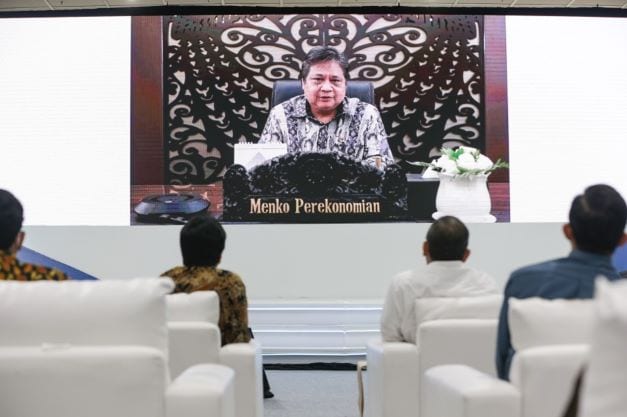 "I congratulate all Sampoerna management and employees on the production facility inauguration and the first export shipment of innovative smoke-free tobacco products. The investment made by Sampoerna is expected to have a positive impact in encouraging innovation, as well as creating economic value in many sectors, including the MSME sector, traditional retail, partnerships with farmers, and R&D capacity development," Coordinating Minister for Economic Affairs of Indonesia, Airlangga Hartarto said, marking the inauguration today.
The inauguration ceremony was witnessed by, among others, Chairman of the National Research and Innovation Agency (BRIN) Laksana Tri Handoko, Chairman of the National Standardization Agency (BSN) Kukuh S. Achmad, Secretary of the Coordinating Ministry for Economic Affairs Susiwijono Moegiarso, and Director General of Agro Industry of the Ministry of Industry Putu Juli Ardika.
"We really appreciate Sampoerna's investment in Indonesia. Especially, not only investment, but (they are) also bringing new innovation. This is certainly an example of alternative products that are innovative," said Laksana Tri Handoko in his speech.
This investment is a concrete manifestation of Sampoerna's support of the government's efforts to promote national economic resilience amidst challenging global economic conditions. Furthermore, the high-tech production facility also aims to support the manufacturing sector transformation that is aligned with the "Making Indonesia 4.0" roadmap introduced by the government.
During the occasion, President Director of Sampoerna, Vassilis Gkatzelis conveyed his appreciation to the Indonesian government for the conducive investment climate, as well as the government's commitment to maintaining national economic stability. "As a company that has been operating for almost 110 years, we aim to continue to contribute to the national economy through continuous investment as well as the economic impact on the national tobacco industry supply chain and ecosystem," Vassilis said.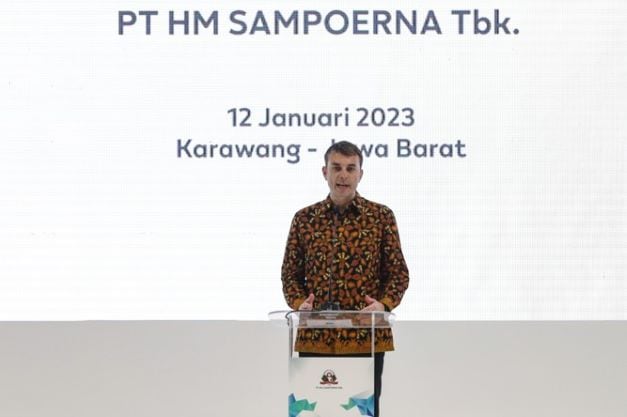 Vassilis added that in addition to factory construction, Sampoerna is also committed to creating economic value added that includes R&D capability expansion, job opportunities for highly skilled workers, purchasing local tobacco supplies, MSMEs development that includes digitalization and capacity building for traditional retailers, operating a digital hub, as well as increasing export performance.
"The long-term investment by Sampoerna, which is part of Philip Morris International, is proof of our vote of confidence in the certainty of the investment and business climate in Indonesia. I hope that our investment will also strengthen Indonesia's position as an investment destination from within and outside the country," Vassilis said.
Innovative Smoke-Free Tobacco Products
Innovative smoke-free tobacco products are developed based on scientific research with a harm reduction approach. "Through science and technology-based innovations, Philip Morris International (PMI) has developed a variety of innovative smoke-free tobacco products without the combustion process in an effort to introduce better alternatives for adult smokers," Vassilis said.
For more than a decade, Sampoerna's parent company, PMI, has invested more than US$ 9 billion to develop, scientifically substantiate, and commercialize innovative smoke-free tobacco products.1 This is supported by more than 980 scientists, engineers, technicians, and support staff, including those from Indonesia.
One of these smoke-free products is a tobacco heating device called IQOS. By leveraging science and technology, IQOS heats tobacco sticks, that use real tobacco, without combustion. Therefore, IQOS emits on average 90-95% lower levels of harmful and potentially harmful chemicals compared to cigarettes.
"IQOS is an electronic device that heats tobacco instead of burning it. The heating process takes place at a maximum of 350 degrees Celsius. Therefore, there is no fire, ash, or smoke," Vassilis said.
He added that innovative smoke-free tobacco products contain nicotine. While nicotine is addictive, it is not the primary cause of smoking-related diseases. Therefore, nicotine can be delivered using other methods without combustion process.
Currently, PMI's smoke-free products are available in 70 markets globally. Vassilis said PMI estimates that as of September 2022, approximately 13.5 million adult consumers around the world had switched to IQOS and stopped smoking.2 In Indonesia, IQOS has been introduced through limited market testing since 2019 and is available in major cities in Indonesia, namely Jakarta, Surabaya, Denpasar, Bandung, Medan, Pekanbaru, Palembang, Makassar, Balikpapan, Samarinda, and other cities.
"Based on scientific research by PMI and independent bodies, switching completely to IQOS reduces the harm compared to continuing smoking," Vassilis emphasized. He also said that smoke-free products are not risk-free and specifically intended for adult smokers who decided to continue using tobacco or other nicotine products.
---
1 As of December 2021.
2 As of September 2022. Excludes Russia and Ukraine.
***
About PT HM Sampoerna Tbk. (Sampoerna)
Established in 1913, Sampoerna – an affiliate of Philip Morris International Inc. – is a leading tobacco company in Indonesia. Sampoerna owns and operates six factories located in Surabaya, Pasuruan, Probolinggo, Malang, and Karawang. The Company establishes partnership with 38 Third-Party Operators (TPOs) in Java – with a total workforce of around 66,000 direct and indirect employees, mostly in the production of hand-rolled clove cigarettes. It has a total of 110 zone branches offices, sales offices, and distribution centers, as well as 25 third-party Exclusive Zonified Distributors (EZD) throughout Indonesia.
Sampoerna is one of the largest companies by market capitalization on the Indonesian Stock Exchange, where it trades under the ticker symbol "HMSP".
For more information, please visit: www.sampoerna.com
Media Contact:
Reza Juniarshah
Head of Corporate Communications
PT HM Sampoerna Tbk.
contact@sampoerna.com