12/26/2018
Sampoerna is Committed to Preventing Child Labor in Lombok through Competition and 'Rumah Pintar' Festival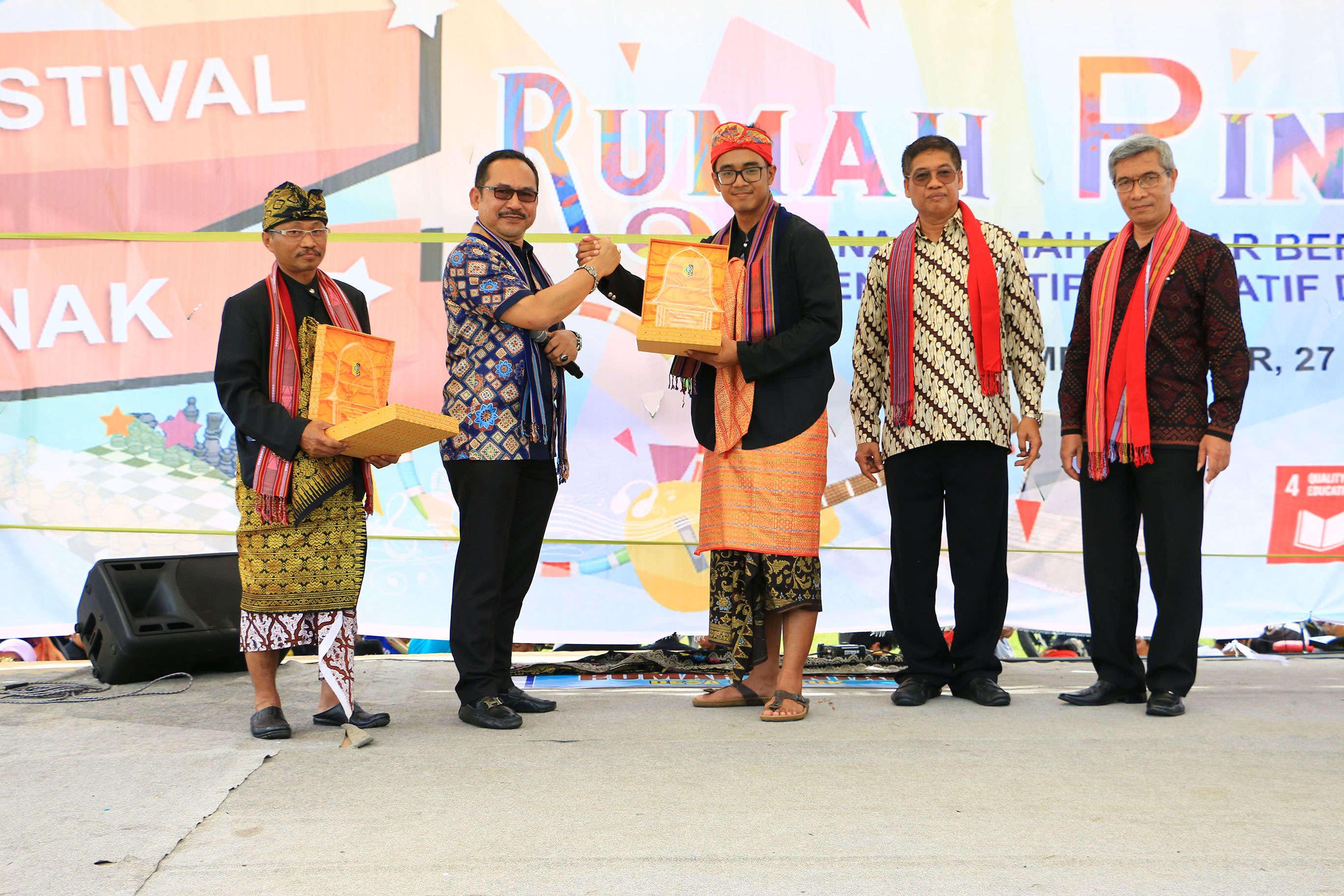 West Nusa Tenggara, 26 – 27 December 2018 – as an embodiment of its commitment in preventing and minimalizing children's involvement in tobacco plantation and processing, PT HM Sampoerna Tbk. (Sampoerna) has been consistently organized 'Rumah Pintar' program in West Nusa Tenggara (NTB) since 2016. Rumah Pintar is a program that provides services for children aged 7-18 years old (Elementary School to Senior High School) with positive and educative activities. This program is also Sampoerna's effort to support the government's policy on achieving 'Indonesia Bebas Pekerja Anak 2022' or 'Zero Child Labor Indonesia 2022'.
On the top of the event series are Child Competition in Bencingah, Central Lombok on 26 December 2018 in collaboration with Indonesian Women's Coalition and Rumah Pintar Festival in Selong, East Lombok on 27 December 2018 in partnership with Lembaga Transform. Both events aim to showcase the learning results and skills of children participating in Rumah Pintar in order to encourage and keep them away from activities in tobacco field.
Head of Regional Relations & CSR Sampoerna, Ervin Laurence Pakpahan explained, "We and partners, both NGOs and suppliers, are committed to preventing and eliminating the practice of child labor in Lombok. Accordingly, through the umbrella program of the company's corporate social responsibility 'Sampoerna for Indonesia', we present Rumah Pintar program to provide a space for productive learning and playing for children after school hours,"
In 2018, there are 22 Rumah Pintar spread in West Nusa Tenggara. Eight of them are in partner with Indonesian Women's Coalition and 14 are in collaboration with Lembaga Transform. Both top events were held to showcase the children's skills during their participation in Rumah Pintar. The event is expected to transmit enthusiasm to children to be actively involved in the activities relevant to their age.
Furthermore, Selly Ester Br Sembiring, Regional Secretary of Indonesian Women's Coalition for NTB, explained the purpose of the event, "Other than to decrease children involvement in tobacco farming, it also attempts to develop their interests and skills. Child Competition is a space to share experience, exchange insight and information for children, tutors, Rumah Pintar administrators, and other stakeholders,"
Based on the data from Lembaga Transform, Rumah Pintar program has become a place to play and learn for 7,037 children or 74 percent of total number of children in 14 villages, allowing them to not use their spare time in the tobacco farm. The selected areas for the program's location are tobacco-making villages such as Padamara Village, Setanggor, Jantuk, Kabar, Rumbuk, Sukadana, Montong Baan, Sakra Selatan, Gelanggang, Bungtiang, Senyiur, Batu Putik, Sepapan, dan Jerowaru. This program also has 163 local people involved as field facilitators, administrators, and mentors.
"Based on the evaluation we did, it appears that this program is able to change the habit of 74 percent of children who once spent their time on activities in tobacco farm after school. Now, instead of going to the farm, they can stop by the Rumah Pintar to expand their interests and potentials," said Suyono, Director of Lembaga Transform.
Rumah Pintar offers various educative activities for children of school age, among others: free course for varied school subjects such as English, computer, mathematics, sports, traditional art development, dancing, martial arts, swimming, games, and vocational activities. Additionally, to support those activities, a number of facilities are also provided, among others are playing field, edicative games, supporting visual devices for learning, and others.
The first day of Child Competition included competition on subjects and games, 'Rumpin Award' as an appreciation for the parties who participated in the program's implementation, and the reading of 'Declaration of Children's Rights Fulfillment and STOP Child Worker' by a student representative, foster farmers, farm workers, tutors, and administrators of Rumah Pintar as well as parents. The second day of Children Festival covered exhibition involving Rumah Pintar from various villages. Each representation showcases learning facilities such as computer, traditional music instruments, edu-games facilities, and the students' handicrafts to introduce the supporting learning facilities and program achievements.
In the implementation of this competition and festival, Sampoerna and both NGOs involved related Regional Government from West Nusa Tenggara Province, Central Lombok and East Lombok District, and village officials, suppliers, administrators and tutors, tobacco farmers, as well as children who take advantage of this program to spend their free time after school.
Sampoerna invites all stakeholders to collaborate in the prevention of child labor in tobacco and other plantations. "We believe that children have rights to play and learn appropriate to their age. Therefore, Rumah Pintar program is expected to be a reference for the policy development to support children's growth. We started this program in 2016 with the goal of being able to yield a positive impact in the long run, particularly for the echancement of youth's competency and reach 'Zero Child Labor Indonesia 2022'," Ervin concluded.
***
About PT HM Sampoerna Tbk. (Sampoerna)
Established in 1913, Sampoerna – an affiliation of PT Philip Morris Indonesia and part of Philip Morris International Inc. – is one of the leading tobacco companies in Indonesia, which focuses on production and sales of kretek cigarette. The Company produces several well-known kretek cigarettes such as Sampoerna A, legendary King of Kretek Dji Sam Soe, Sampoerna U, and Sampoerna Kretek. The Company also distributes Marlboro cigarette across Indonesia through a long-term distribution agreement with PT Philip Morris Indonesia. Sampoerna is operating seven factories in Java island and cooperating with 38 Cigarette Production Partners, with a total manpower of 67,400 employees, both direct and indirect, most of which work in Hand-Rolled Cigarette production line. Sampoerna distributes its products through 106 regional sales and distribution offices across Indonesia.
Sampoerna is the issuer with the largest market capitalization in Indonesia Stock Exchange. Sampoerna's shares are traded under the "HMSP" stock code.
An Overview of Sampoerna for Indonesia
Sampoerna for Indonesia is a series of activities and program held by PT HM Sampoerna Tbk. as the Company's contribution and participation in developing the Nation and people of Indonesia, as well as to inspire and motivate the community to do the best for themselves and Indonesia. The "Sampoerna for Indonesia" activity and program cover various fields, such as education, woman empowerment, community economy development, and disaster emergency response.
For further information, please visit: www.sampoerna.com